Root Canal Infection - Dental Therapy Procedures and Processes
At the Endodontic Group, we combine technical expertise, state-of-the-art technology and a compassionate, patient-centred approach to treatment. All these factors help us achieve the best possible outcome for every patient we treat.
Many of our patients aren't familiar with the term 'endodontist' until they're referred to us for root canal therapy – endodontists are specialist dentists with advanced training in treating the diseased or damaged pulp of the tooth. Currently, it requires three years of post-graduate study to register as an endodontist in Australia.
Want to know more about Endodontics? Watch our introductory video.
---
---
Referral
You don't need a referral to see an endodontist, however, it's common for a general dentist to refer you if they feel a better outcome will be achieved if a specialist endodontist performs your treatment. We then work in partnership with your general dentist to provide you with the highest quality of care. Once endodontic treatment is completed with the specialist, you are then placed back into the care of your general dentist for the restorative phase – normally to have the tooth protected with a crown.
Consultation
We believe the most important phase of treatment is your consultation with one of our endodontists. Following a thorough assessment of your current oral health and review of your records from your referring dentist, your endodontist will develop a personalised treatment plan for you, which may vary from one to several appointments depending on your case.
During your consultation, we take the time to explain what's involved in your treatment and encourage you to ask any questions you may have. Our main goal is to make you fully relaxed and comfortable while attending your appointment.
Radiographs
Radiographs (x-rays) are one of the most important tools for developing your treatment plan. High definition radiographs enable our endodontists to see what's occurring under your gumline and where your tooth root intersects with your jawbone. Radiographs also provide a detailed record of your treatment phases and allow your endodontist to clearly evaluate the outcome of your treatment.
Endodontic treatment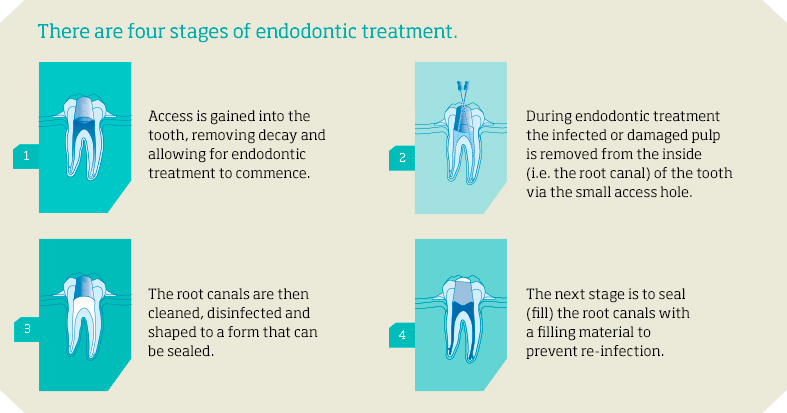 This treatment can take one or more appointments, depending on your case.
During the endodontic treatment, your tooth will be isolated and protected with a sheet of rubber (rubber dam). The rubber dam isolates the tooth, so only the tooth can be seen during the treatment. This prevents debris from within the tooth entering the mouth or saliva and bacteria from the mouth entering the tooth during the treatment process.
After treatment
If more than one visit is required, an anti-bacterial dressing and temporary filling will be placed inside your tooth. This will help to settle the surrounding tissues and destroy the remaining bacteria. In between visits you can use your tooth for chewing, but some care should be taken.
When endodontic treatment is complete your endodontist will liaise with your dentist, provide a summary of your treatment, and you'll be referred back to your dentist for a filling or crown (cap). The tooth should be permanently restored as soon as possible as there is the risk of damage to the tooth from biting forces.
What can you expect immediately after your treatment?
It's normal to experience mild to moderate discomfort following endodontic treatment, especially when chewing. This is due to a healing response at the root ends and the injection sites and is completely normal.
If these symptoms occur, we recommend that you take 400mg of Ibuprofen (2 Nurofen or equivalent tablets) immediately after the procedure and then every 4-6 hours as necessary. If you cannot take Ibuprofen, due to an allergy, stomach ulcer, or as per your medical practitioner's advice, you may take 1000mg Paracetamol (2 Panadol or equivalent) every 4-6 hours. You can also take both 2 x Ibuprofen and 2 x Paracetamol together for extra analgesia.
Immediately following treatment, please be careful to avoid biting or burning your lip or cheek while your mouth is numb. Softer foods are advisable in the first few days following the procedure and while tenderness remains.
We recommend that you continue with good oral hygiene, tooth brushing, and flossing. However, if a large temporary restoration has been placed in the treated tooth, flossing may be difficult in the short term.
If you experience swelling or fever after the root canal therapy, you may require antibiotics – if these symptoms occur, please contact us for further advice.
Depending on the condition of the tooth prior to the root canal treatment, the healing phase may take longer than predicted. Please be patient with this process as it can take several weeks, or occasionally longer, for a full resolution of symptoms.
Pre-surgery tips
We recommend the use of Savacol twice a day for 24 hours prior to surgery (after brushing and flossing). Also, please discuss with your endodontist any medication you're taking that may increase bleeding or inhibit healing.
After surgery tips
We recommend the use of Savacol twice a day for two weeks following surgery.As a general rule, the cleaner the surgical site is kept the faster it will heal. The teeth away from the surgical site should be cleaned normally. After 24 hours you can begin extremely gentle brushing of the surgical area.
It is normal to experience some swelling, discomfort and bruising after any surgery. Pain can usually be quickly controlled with analgesics.Strenuous physical activity should be limited for at least 3–4 days after treatment.
It is important to continue eating normally after surgery. Soft, cool foods are recommended. It may be necessary to cut the foods up smaller than usual and to chew on teeth away from the surgical site. Smoking should be avoided as it will delay healing. If sutures are not self-dissolving then please make an appointment for their removal. Should you have other concerns following surgery, please contact us for further advice.
Benefit from years of experience and the latest technology
At the Endodontic Group, you'll benefit from cutting-edge technology operated by highly trained professionals – it's this combination of expertise and equipment that makes the Endodontic Group leaders in their field.
Operating microscopes
The operating microscope has become an essential part of endodontic treatment, allowing more accurate and predictable treatment. They allow greater magnification (up to 24x) so we can 'zoom in' and see the tooth in greater detail. Operating microscopes also provide perfectly directed shadow-free light, allowing your endodontist to see inside darkened spaces like crowns and root canals.
In fact, a recent study from Switzerland has shown that even when dentists are wearing loupes (dental magnifying glasses) and have a surgical headlight, they are unable to see any structures past the opening of the root canals. These are only visible when using an operating microscope. In endodontics this can create a problem as bacteria will hide in those hard to see places leading to failed treatment. Visibility is also essential in retreatments to allow the endodontist to remove all of the old root filling material from inside a canal.
As well as not being able to see inside root canals, without an operating microscope dentists are often unable to locate calcified canals or extra canals that are always present in molar teeth, and some premolars or incisors. If the extra canals are not found and cleaned the infection and problems will remain.
In addition to locating extra canals and being able to see further down into the tooth to remove bacteria, microscopes enable endodontists to see fine cracks that might otherwise be missed. By picking up cracks early in the procedure an endodontist is able to advise the patient when their tooth is not going to be suitable for endodontic treatment, saving them both money and time.
All of these factors mean that an operating microscope is an essential tool in today's endodontic treatment.
CBCT machine
Until recently, radiographic (x-ray) assessment of teeth and root canal treatments was limited to two-dimensional images, which meant some critical information was lost in the imaging process. With the introduction of cone beam volumetric tomography (CBCT) we are now able to visualise the teeth, jawbones and surrounding structures in three dimensions.
The 3D view of the area provides more information on structures like extra canals, root fractures and other sensitive anatomic tissues like nerves. This information can be critical when diagnosing the cause of your pain, or when planning endodontic microsurgery.
The Endodontic Group has in-house CBCT machines at our Indooroopilly, Robina and Maroochydore practices. If you are being treated at one of our other practices, your endodontist will advise if a CBCT x-ray is required and a referral to a radiology clinic may be arranged. In all cases, you can be assured you're receiving the highest standard of care.
Nickel titanium rotary instruments
Made from an alloy of nickel and titanium these fine, specially developed instruments have greater flexibility and resistance to fracture when compared with stainless steel files. This enables them to remove harmful material and follow the intricate curvature of root canals to create the correct shape. The files are driven by a motor, which reduces the need for using hand-held instruments, resulting in predictable, efficient and rapid cleaning, reducing the time required for tooth preparation.
Single-use instruments
Many years ago, the Endodontic Group introduced a policy of single use of endodontic files. Even now, we're one of the few endodontic practices in Australia using single-use instruments. There are protocols for cleaning and sterilising of endodontic instruments. However, it's difficult to get consistency in results from these procedures and there's also the risk of sharps injuries to staff in performing the cleaning process.
Several government agencies around the world, including the United Kingdom, have already recommend the single use of endodontic files. This action has arisen out of concern for the difficulties encountered in the sterilisation of instruments after use of, and the possibility that they may act as vehicle for disease transmission when re-used.
The other major risk with re-use of files is instrument separation or breakage. This risk increases with more use of the files. It can be very difficult to track the number of times instruments have been used and almost impossible to determine how much they have deteriorated. Studies clearly demonstrate the decline in efficiency of endodontic files with each use and if they break inside the tooth they can prevent complete cleaning of the canals.
When we initially considered introducing single-use instruments, we asked ourselves 'if we were the patient, what would we like used during our treatment?' Once we answered that question, the decision seemed quite simple.
There are cost implications; however most patients are quite happy to pay slightly more for the use of new instruments. This ensures our patients enjoy better outcomes and the highest possible standard of care.
Expertise in trauma & emergencies
At the Endodontic Group, we're experts in managing dental trauma of the teeth and jaws. If you are ever unfortunate enough to suffer a traumatic event, we'll endeavour to see you on the same day to manage the situation appropriately.
Dental trauma occurs unexpectedly and to people of all ages. Accordingly, management is different for everyone and treatment is often complicated and carried out over an extended period of time. Improper early management of dental injuries usually leads to poor healing. This can be a significant problem if it shortens the life of the injured tooth or teeth, or if it results in a poor aesthetic outcome. Given there is often only one chance to ensure you have the best long-term outcome, it's essential you know that your dentist is experienced in managing these situations.